Feb 24, Day 11 – to Neyyattinkara
After last night's chit-chat with Ingrid and her friend, we left Varkala around 8.00am following the normal routine of having some biscuits to munch and then head out. Google Maps had suggested a route (I had picked up a walking route). Google Maps made every effort that we walk that route. It started off from Varkala then heading into a small village and then a sudden climb on a small rocky road, which could just be tread on cycle, soon the climb was little too much for us and we climbed down and followed the stretch.  It overlooked the lovely beach below through red rocky terrain laced with coconut trees with blue waters bordered with golden sands below.
Soon, we came down on a motorable road along Aaliyirakkam beach. We followed the coastline all the way till we reached Anchuthengu, where we took a left into the town, then crossing small lagoons, bridges, small and big temples, etc. We again had to carry our cycles on our shoulders when we crossed a high bridge near the town of Chirayinkeezhu and crossed the railway twice. While I was waiting for Surya to come down from the high bridge, kids in their maroon uniforms passed Surya, he too happily capturing the moments. When he came down…
ऋतु, मुझे फिर पाठशाला में जाके पढाई करनी है, क्या दिन थे वह.
We took a right again towards the west to continue on a coastal flat, straight road of around 7 km taking us all the way to Thumba! The road was a little disappointing, even though it showed in maps it was close to the beach, hardly we could see and feel the water and its ambiance. As we reached Thumba, we were stopped by a local suggesting to take another route as this was a restricted area from where "rockets fly". He was referring to the Thumba Launch station. As we crossed Thumba, the 'big city' started welcoming us, first with huge residential apartments and other "Software / Industrial Parks".  Unmistakably, we were heading into the capital of Kerala, Thiruvananthapuram. We spotted a sugarcane juice vendor and we did kick off his day, his sugarcane juice even had a dash of ginger along with lime. We had our breakfast on the outskirts of TVM around 11 am in another "New Arya's Veg. Hotel". This one too had the same menu on the offering.
There on, we headed straight into the heart of the city, thought we could even have a glance at the famous Padmanabhawamy Temple, the temple where a rich stash of gold over ₹1000 Cr. was found in just one of the three vaults. As we roamed around the outskirts temple, trying to get through the security, a foreign couple asked me where had we been travelling from, when I answered Goa, both were stunned not just because it was really long way away but because he saw we just carried the measly backpacks with almost nothing in it. the temple's God had a timing and we couldn't get in. We headed straight down south for our night halt.
Through the heat and an evolving city, the path along NH-47 took us to Neyyattinkara which was the last big town of Kerala. We reached there around 3.00 pm where we quickly found a lodge and went through our washing chores. When we emerged from it we were ready to explore. First up, food. We had snacks of dosa, vada and tea and headed out into a close by temple where the serene surrounding relaxed us. The temple following the south Indian tradition of having a 1000 lamps was getting ready for the evening prayer. People started coming in and helping up light the lamps. It was a daily ritual which really took "team effort". An uncle doing the same asked Surya if he could take his picture, Surya obliged. Smiling uncle responded – "facebook upload". We smiled, Facebook has really peculated. I asked another uncle which God's temple it is, he said Krishna, then gestured with his hands as a 'small'. When I asked whether it was that of "Bal Krishna" his face lit up and he nodded and smiled back.
After our HIndu spiritual connect, we took a rickshaw and went to check out the CSI Amravilla church, which had closed it doors, this God like Padmanabhawamy had his timings. We came back and had our dinner at a pure veg. restaurant which served us Chettinad Paneer which was a dark gravy dish full of condiments and spice  with a rich hand of "garam masala".
Back at the lodge, we awaited for the next day. The day when we'd reach our final destination.
Route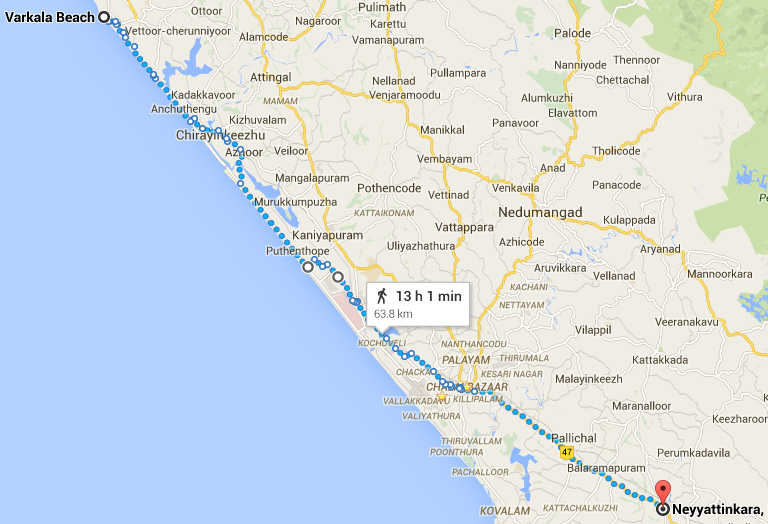 River Crossings
Anchuthengu Kayal, Anchuthengu, Kerala
Vamanpuram River, Chirayinkeezhu, Kerala
Kadinamkulam Lake, near Azhoor, Kerala
Aakulam Lake, Thiruvananthapuram, Kerala
Killi River, Thiruvananthapuram, Kerala
Karamanayar River, Thiruvananthapuram, Kerala
Numbers
Rivers / Puzhas – 6
Ghats – 1 (which we had to walk with our cycles near Varakala)
Length – 65 km.
Time – 7 hrs