Feb 23, Day 10 – to Varkala
Yet another day, and we are on our bikes by 7.30am. Leaving Alappuzha on the NH-47 (Salem – Kochi – Kanyakumari Highway) we are followed by the CPI(M) flags, banners. The road is very uninteresting, flat and straight. A little before Karunagapally, we witness an accident. An auto-rickshaw parked across the flow of the road, with crowd surrounding it. Cars, trucks and vehicles from either side waiting for the 'problem' to clear. A few men were helping a lady lay flat on the road, who seemed unconscious. As we walked past the crowd, a car stopped, few men helped the woman in the car along with another lady to assist her. I realized on the highway, things can turn sour in a flash. We stopped for our Pineapple juice stop where I thought we might as well help ourselves with some food. We ate some thick dosas and appams which reminded me of pancakes.
The road remained boring till we reached outskirts of Kollam, where the buzz of a big city inspired us to be looking out for some excitement or change. We asked for directions of Kollam beach and reached there around 12.30pm. When we turned in towards the beach road, we were welcomed by dark blue patch, this patch turned out to be the sea ! BLUE ! This colour of the sea was the bluest I had ever seen. I was mesmerized by its colour for a moment. But then I returned back to reality of the harsh heat of the midday Kollam sun. We headed for a beach side shade, where Surya kept chatting on the phone with his Couch surfing guests who happened to be in Varkala. After some relaxing time in the shade, we headed for lunch at Hotel Prasanthi. Here a waiter first walked up to our table, hearing us talk in Hindi, he retrieved and asked another Nepali-looking waiter to tend to our requests. Only meal (thali with rice) was on offer. It was a huge plate with 10 small bowls of chutneys, rasam, curd, sambhar, vegetables and a sweet made of jaggery.
Around 1.30 we headed for Varakala, which was around 30km away. First I had to get my height of the seat adjusted, I found a bike repair shop and got it set. Now it felt so much better! But riding in the sun is no fun. Soon on the outskirts we stop for drinking mazza and cool off. The road ahead was climbing up and down heading east, till we took a right at Chathannoor taking us westwards towards the sea. We stopped again near a primary school at Meenadu. Relaxing taking pictures of kids playing around. Some of them trying to interact with us, while most girls just shying away.
As we reached closer to the beach, the mundane scenery vanished and we were welcomed by lovely Kappil beach. Riding on a new laid road with clean markers and lines was good enough, but the blue sea on the right and backwater to the left made it special. Reminding us of Marvanthe beach in Karnataka. I took out my phone and tried to grab a video of this ride.
Road leading into Varkala was in a hilly terrain. We reached around 5.00pm and while we were trying to find a cottage suggested by Surya's couch surfers, Surya spotted them walking. A short fellow with long blonde hair and a taller slim woman with short hair. After introductions and hi and hellos we fixed the cottage and headed for the beach. Where I relaxed in a small cove like beach which was only a hundred meter wide. It had to be climbed down from the hill overlooking the sea.
After the swim, I headed for shower back in the cottage, while Surya who had already freshened and didn't venture into the sea went along with Ondur (the guy) and Ingrid, chatting along. I called him around 7.30 for food, when he said Ondur will come back to our cottage and we'd go for dinner. When he took me to the place, it reminded me of Aarambol. A small hilly road directly overlooking the beach below. The road full of shacks, shops, restaurants just trying to attract foreign tourists. We stopped at one restaurant which offered live music, which at best was a guy strumming something all to himself and another lady beating the bongos. The food was just as bad and we had to wait over 30 minutes to get our order of chapatis.
By the time we reached back to the cottage it was 11. Yet we continued to chat. Only Ingrid and Ondur realized it was really late for us cyclists, that we head to our beds.
Route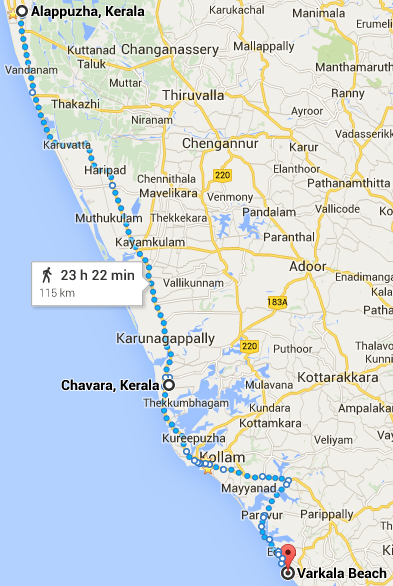 River Crossings
Kollam – Kottapuram Waterway, Thottapally, Kerala
Kayamkulam Kayal, Kayamkulam, Kerala
Vattakayal, Karunagappally, Kerala
Ashtamundi lake, Kollam, Kerala
Ithikkara River, Chathanoor, Kerala
Edava Nadayara Kayal, Kappil, Kerala
Numbers
Rivers / Puzhas  – 6
Ghats – a small one
Length – 115 km.
Time – 9:30 hrs