Feb 20, Day 7 – to Tirur, Kerala
Its our 7th day of our trip, a week in total almost 700km ! Today's stop is at Tirur, which is re-scheduled stop, the original being Kozhikode / Calicut. Kozhikode is just 50 km away and we should be there for breakfast. Leaving around 7.40am we reached Kozhikode around 10.30am. We found a good restaurant but it offered primarily Beef, chicken and other meaty delicacies. We found a Veg. restaurant unfortunately offering only standard few dishes in veg. Vada, Dosa, etc. I opted for a "Tiffin 2" a mixed bag of dosa, upma and vada. While waiting for the food, I got to a medical shop to find a Sun screen lotion. The guy at the counter began in the local hi-speed tongue. I said…
No Malyali !
to which he immediately smiled back and said
No Malayalam.
I smiled back and repeated after him. Big Mistake I had just gestured the Mallu guy – "No Mallus !" 😛 Damn !
After a fairly average breakfast, we headed for Beypore. This was going to be another ferry ride, on our way towards it we tried to find out if the ferry worked fine from Beypore to Chaliyam. But all we got were nods. As we reached Beypore, the local guys at the port said that the boat had broken down and you'd have to go all the way around Feroke and back to Chaliyam. We did another 5-7 km. extra. The route from Feroke was coming off NH-17 wandering along coastal villages and then reaching Tirur, which itself was 8-10 km. west of NH-17.
Surya's cycle had its first and last problem here, somewhere before Parappanangadi. We heard a breaking sound near the rear wheel of Surya's bike. Surya stopped to check each spoke, one had given way. The rear wheel too seemed a little out now. Rest everything seemed fine, and we continued cautiously. Had another round of Pineapple juice near Parappanangadi and continued.
Around 4pm, on the outskirts of Tirur, we stopped at a cycle shop where the guy helped us re-align Surya's rear-wheel. We asked if we should replace the spoke, he said
No worry ! 1 spoke – 2 spoke no problem – जाऒ दिल्ली – no problem
He kept talking about his stint in Mumbai as a labourer and how costly our cycles were, He was astonished to know about its price of over ₹10K. He offered us tea and asked us to sit and relax. He didn't even charge for re-aligning Surya's wheel. We paid him a tenner and got into Tirur town, where we first stopped at a Pure Veg. Olive Restaurant for snacks and tea. While having tea the owner suggested 'Sangamam Residency' which was just in the lane behind the hotel.
At the hotel suggested, we finalized the ₹1035 tarrif and were happy to see a fairly big room, well lit, airy and clean. TV too ! After our baths, went downstairs to backside of the hotel to see the sun setting behind the backwater flowing adjacent to our building. Then it was the road to get the feel of a town. A procession went on, a few tigers (men colored as yellow and black stripes) danced along with crowd following them, some of them dancing to the hindi song of 'Mere sapno ki rani'.
After roaming in the market and walking along the railway station we got back to the same restaurant, had our food and went back to the hotel where Mr. Unnikrishnan (the hotel manager / owner) helped us lock our bikes in the auditorium. He also answered our question about the awesome bungalows that we'd been discovering.
Back at the hotel, it was Shurti Hasan! We switched on the TV going through a thousand channels showing guys with heavy stubble dancing crazily ! With the heavier female leads following their steps. Surya commented.
एक चीज़ नोट करो, फीमेल और मेल के same steps होते हैं. ऐसा नहीं की females का थोड़ा sober dance step होगा
We checked few more songs and his hypothesis was up-voted. I also noted that for the females, the face was least shown! And, unlike the hindi promotional / song channels, the southern channels aired the complete version of the song 4min+ songs – complete. Nothing went to waste. We went through multiple songs like Rajni sir's Mona Gasolina and the current hit Adhaaru Adhaaru and others until we finalized on a tamil movie with Ms. Hasan as a bio-chemist trying to prevent a epidemic. Beautiful Shruti and her over acting (probably forced as Surya again analyzed) continued till we were dead into sleep.
Top Songs while browsing
Route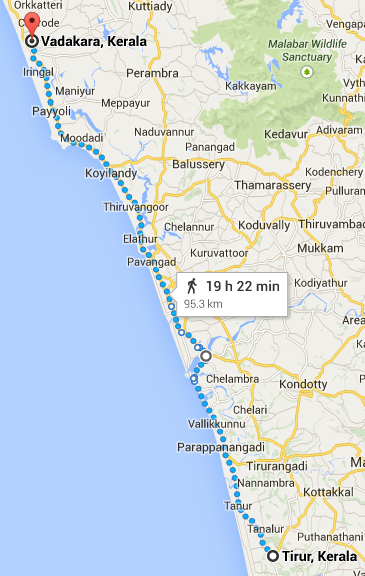 River Crossings
Kuttiyadi River, Iringal, Kerala
Korapuzha, Elathur, Kerala
Mampuzha, Kozhikode, Kerala
Chaliyar River, Feroke, Kerala
Kadalundi River, Kadalundi, Kerala
Poorappuzha, Pariyapura, Kerala
Ponnani River, Tirur, Kerala
Numbers
Rivers / Puzha – 7
Ghats – 0
Length – 100 km.
Time – 8:30 hrs