Feb 18, Day 5 – to Nileshwar, Kerala
Last night was a mosquito mayhem. Both of us had got up a few times irritated by the insects. Yet we leave on time, and use Google Maps to zip thru the Mangalore city and get on to the highway. But the state of the highway isn't good at all. Potholes, dirt, etc. makes the road highly tiring. Almost an hour of riding and we are tiring. Crossing the Netravathi River, Surya says, I don't understand why Karnataka has water problem. And it seemed true whole of Karnataka, we had so many river crossings and each river seemed clean and full.
But, its Thalapady. The border of Karnataka and Kerala. We stop for our banana break and take a few snaps. We're in Kerala! We check with the KL Police if the road continues in the same dysfunctional manner, but he says its good ahead. North of Kerala seems to have high muslim population, a lot of Masjids, Madrasas are encountered. But as soon as we've hit Kerala, the scenery has changed, from the slightly hilly and rocky terrains in Karnataka, its now flatter. The roads seem to have narrowed  a bit and passing through many greener patches and going over rivers / water bodies.
Most of the milestones had Kochi showing 400km+. It was one of our stops, and it felt so far! I concentrated back on the road and the immediate destination.
We reach Kasargod around 10.30 am and stop for breakfast. Here Surya encounters the Red and warm water served in restaurants. We have another round of Dosas, Onion Uttappas. We leave Kasargod for Kanhangad. Today we seem to have covered a lot of distance with another 30km for Kanhangad. Through the Kasargod town, we get to a point where we encounter a ghat, where I stopped to verify with Google Maps, to my fear, we have gone more than 8km off road towards the east from Kasargod instead of South. Surya decides we'll take the ghat route and join back on the NH-17 near Udma, there was no point in doing the bad hot city road again.
Coming from the Easter ghat of Kasargod, we land up in Udma cover almost 20 km. Had we gone the right route, Udma was just 5kms. There on at every small town that we encountered I was checking Google Maps. We reached Kanhangad around 2.15pm. We stopped for lunch which seemed like a good restaurant. It was AC, when I entered it I immediately stepped out. It was way too cold for us cyclists riding in the heat of the noon. We waited for some time and got inside where the guys had just one or two subzis and chappathi. Even for a good restaurant that with clean table cloth and nice furniture, it didn't have much for us veggies. The food was strange, we finished it off early and wandered back on road wondering if we should stay in Kanhangad or move ahead, we thought of getting to Nileshwar.
However we thought of visiting the Bhagwan Nityanand Swami Ashram. Here an old man guided us along the ashram, showing us the 44 caves and narrating the history of Bhagwan Nityanand.
There on we reached Nileshwar which was around 12km / 30mins away. At Nileshwar we were for a shock none of the Lodges had an empty room. A resort before had an AC cottage with Rs. 3500 for a night which we didn't want. Luckily with help of few locals we ended up finding another lodge with just Rs. 400 / night.
After our baths and wearing clean clothes (which seemed like we've been wearing all our lives) we headed to see a local temple, where people were just lazing and relaxing under a big banyan tree. Next up was food, we got into a boat shaped 3 storied hotel. We first had juice, having Pineapple juice (the first of many to come) we headed a tier below where food was served, the topmost only served Ice-cream and juices. Here with broken language and hand movements we asked the waiter-uncle to get Masala-dosa and one neer-dosa. He got us 2 neer-dosas. Later again we asked him to get something and he got something of his own choice. There onwards, we referred to Nileshwar as the place where the waiter didn't care for our choice just ordered what he thought we ordered.
Back in the room, the bed sheet was sticky with our sweats, it was so hot and humid, we could hardly sleep with comfort. Google showed the humidity close to 90% ! With odomos on our skin and blasting ceiling fan, the night dwindled.
Route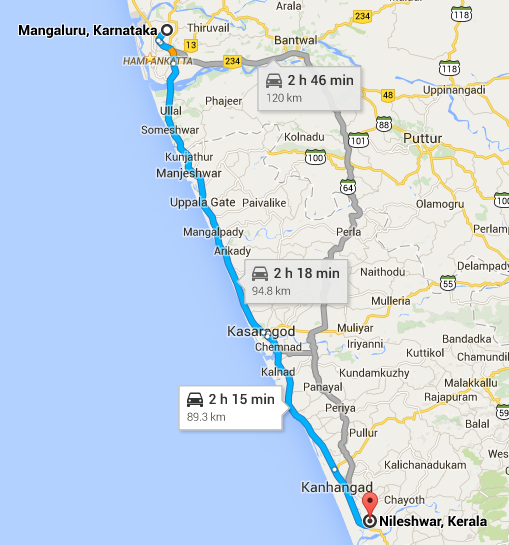 River Crossings
Netravathi River, Mangalore
Backwater near Poyaa, Uppala, Kerala
Chandragiri River, Shiriya, Kerala
Mogral / Madhuvahini River, Mogral, Kerala
Chandragiri puzzha (Chandragiri Backwater), Kasargod, Kerala
Kalanad River, Udma, Kerala
Bekal Backwater, Bekal, Kerala
Chithari River, Kanhangad, Kerala
Thejaswini River, Nileshwar, Kerala
Numbers
Rivers – 9
Ghats – 1 (thanks to Kasargod de-tour)
Length – 110 km (thanks to Kasargod de-tour)
Time – 10 hrs