Feb 19, Day 6 – to Vadakara, Kerala
Getting up without the alarm was now a norm, and similarly mounting on our bikes by 7.30am. We took a right after Pilicode leaving the highway on the left and heading towards Payyanur. The inner roads obviously peaceful and the early morning ride meant getting to see lots of young students mostly in their primary grade leaving for school. Typical uniform was dark shorts and light chequered shirts for boys and for girls same dark coloured dress with a gray jacket. The lively children were always a pleasant sight to watch with them extending their hands to give a clap to the riding travellers. Girls didn't do that they just had a smile which they tried to hide.
We joined NH-17 at Payyanur and soon we left the NH at Pilathara. The road just kept going through small villages where we saw आलिशान bunglows each with a unique design and really well maintained. The small villages were plush with small malls, furniture shops. Each village seemed to be independently developing. The bungalows never stopped fascinating us, I found a very typical colour scheme though – White and shades of Gray.
By the time we reached Pappinseri, we were dehydrated. Even though the ride was through early morning, we kept going at a faster pace not really stopping for drink breaks assuming it was cool enough to ride harder. At Pappinseri we had a glass of Sugarcane juice. The pleasure that it gave to Surya was evident on his face. We couldn't say no to another big glass. Loaded with 2 glasses of Sugarcane – the sugar rush prompted us to ride faster and harder.
We reached Kannur around 11.30am, having covered almost 60km. We stopped for our brunch. It was too late to have just breakfast and we were famished. The waiter was nice to ask
English ? Hindi ?
We had a nice comfortable conversation with him about the road, places along the way, etc. Leaving after an hour long break we reached Thalassery around 1pm. We rode along the beach. This trip was wonderful in a way that the national highway itself takes you along the beaches, first Goa, then Karwar, Marvanthe, now Thalassery.
We were tired and got into a beach side park where we relaxed in the shade of the trees and enjoyed the breeze from the sea. As we dried I suggested we might as well fill in our stomach with little so that we can do the next 20 km to Vadakara in a stretch. Just next to this park was another public park where we found a beach side shack serving refreshments and snacks. First up, we ordered juices, me going with my pineapple and Surya with orange. Then we asked him about veg. food (In Kerala unless you tell the guys you want veg. food, they'll start with non-veg dishes). He listed standard veg. snacks of vada, etc. then his eyes lit up as he said
Gopi Chilli and Gopi Manjuri !
It took us a moment to realize that Manjuri was a reference to Manchurian. We had to order it this time, so did we with fried rice. Even though we didn't want to go the Chinese cuisine – we had no choice. His Gopi was not a Cabbage the normal ingredient in Manchurian balls, but it was Cauliflower, with big pieces of the vegetable lathered with the brown chilli like sauce seemed to be the most popular dish in south India.
After our first encounter with Gopi Manjuri we headed southwards, first we checked out the Thalassery fort, which wasn't much. It was more of a chillout zone for school kids who either had bunked or waiting for their periods to start
A little further we crossed a very beautiful and clean Mahe river. We noticed on the board, that Mahe was part of the Union Teritorry – Puducherry (Pondichery). This meant a lot of liquor shops! Vadakara wasn't far, by 5.20 we were looking for lodging. The lodge we found had a common TV viewing area with benches neatly laid for viewers to experience the nuisance called the TV.
After our long ritual of cleaning, we headed into the town for tea, food and some touristy destinations that it offered. First we roamed to find medical shop to purchase skin creams to keep my घमोरी in check. Then checked out the railway station hoping to be a small lovely one like Murudeshwar was a quite well built one, we disheartened finally got into a veg. restaurant where a busy, dark, thin waiter offered the only veg. dishes as vada, dosa, nai roast, masala dosa, tomato fry, chilli gobi and gobi manchuri. We couldn't brave another gopi dish so went for tomato fry.
At the lodge, we re-planned our itinerary as we were running around 60kms ahead of our schedule. Our new plan was as follows
Vadakara – Tirur – 90 km
Tirur – North Paravoor – 100 km
N. Paravoor – Alappuzha (Alleppey) – 80 km
Alappuzha – Kollam – 90 km
Kollam – Neyyatinkara – 90 km
Neyyatinkara – Kanyakumari – 70 km
Route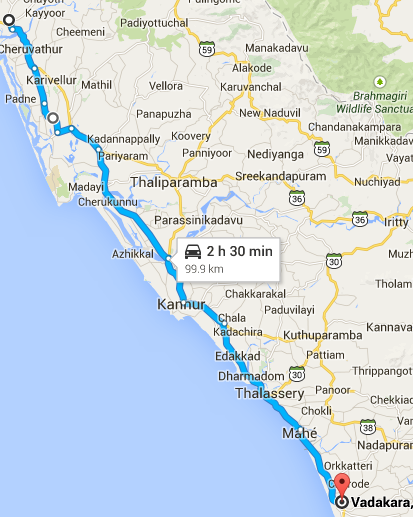 River Crossings
Thejaswini River, Nileshwar, Kerala
Perumba River, Payyanur, Kerala
Vayalapra River, Madappuram, Kerala
Kuppam River, Pazhayangadi, Kerala
Valapattanam River, Kannur, Kerala
Kaanaam River, Kannur, Kerala
Anjarakandy River, Dharmadom, Kerala
Kuyyali puzha, Thalassery, Kerala
Mayyazhi puzha, Mahe, Kerala
Numbers
Rivers / Puzha – 9
Ghats – 1
Length – 100 km
Time – 10 hrs