Feb 22, Day 9 – to Alappuzha
Left N. Paravoor around 7.30am, again crossing the backwater heading westwards for Cherai. A left took us all the way towards Vypin and southwards. The morning ride was spent singing 'Mona Mona Gosolina' as we reached the northern side of Fort Kochi. We had left the NH-17, which was our partner from Goa till this place. Waiting for the ferry, we had some tea and crossed the huge Lake Vembanad and landed on the shores of Fort Kochi, Kochi! Last time I was here it was on a cycle with an engine, this time without it ! It was the first time I felt that we did travel some distance and now were really into the heart of Kerala. We spent time by the Chinese fishing nets and enjoyed another round of tea.
Leaving the almost white-washed buildings in Kochi, we headed for Alappuzha along the state highway along the coastline. The same route that I had done on the motorbike. The road between Kattiparambu and Kandakkadavu was too the same ! Bad ! with just rocks, the gravel had fallen lose. Perhaps it was the sea right to it and the backwater to its left that caused road problems. Terrible road, 3 years on, the state was same. But it immediately improved. We were hungry and thirsty. We stopped at a local shop for some Mazza / Splice (mango drink) where the uncle treated us with a local orange drink filled in the Mazza bottle. When I asked him in broken English – he even replied – same! Just around the corner, I asked Surya if we should also eat something. I stopped at a local eatery, and asked / gestured to the 'uncle' for food. He nodded, when I asked what is available…
beef curry, mutton curry, egg curry, chicken curry, parota….
I stopped him, and asked for Veg. to which was the award winning response.
haaan.. vada, dosa, parota, kurma aur andaa bhi, woh.. baddak ka, murge ka nai
When I narrated this to Surya, he laughed and was too scared to try this eatery where the owner considers egg of a Duck as veg. !. We moved on. Further up around 11.30am, we stopped when we saw a decent baker shop for juice at Pallithode. We had Pineapple and Black grape juice, since we wanted more, we asked for Mazza, this time we sure to check if it was the original one. The owner, an aunty suggested we go to the near by Picnic spot at Andhakaranazhai Beach.
I remembered, the bridge and the construction by the beach, it was a tourist building with some shops, etc. We headed to the end of the beach where we found a spot beneath the trees on the sand where we found locals playing cards (probably Rummi). We rested there for some time, Surya even found time for Forty Winks.
Around 2pm, we were famished. Travelling through the inner state highway was good for the eyes but not for the stomach. We could hardly find anything good hotel to eat. Finally crossing through multitude of Churches and small villages, we decided to stop by a local eatery. Where we were served thick round rice, sambar, beetroot chutney and pickle. I pointed to Surya, a local who ate there. He made balls of rice with his entire palm, and then put the ball into his mouth with the base of his palm. The waiters both of them probably in their mid-50s were waffle thin, dark. Surya joked if he kept continuing his running and cycling trips like this one, that physique would be his future 😀
After spending an hour at the small eatery, we headed for Alappuzha which came early by 3.30pm. Around 4 – 4.30 we found a lovely 200 year old heritage home / hotel – Vrundavan Heritage Home. A beautiful old traditional home of a squarish garden right in the centre. with rooms all around it. We headed out for the beach later after Surya got his shave at a barber. At the beach, CPI party's flags were all along, there was a football tournament with commentary and spectators. We too enjoyed the match for some time and then had some tea and snacks of pakoras of chilli and potatoes.
I found out an "Arya's Veg Restaurant" which was 2 km. away from the beach and decided we could have dinner there. We walked almost 4-5 kms from our hotel to the beach and then to the hotel – Only to find it served the same old, short, stunted menu. I had a few dosas, parota and aloo subzi listening to the Marathi and Gujarati tourists conversations. We returned back in an auto-rickshaw. It felt awesome, the road buzzed behind, and we didn't have to pedal ! It was a strange feeling and a comfortable one too.
Back at the hotel, the manager was chilling out with the foreigners, I asked him that if we could settle today itself since, tomorrow we'd be leaving early for Kollam. We paid him, he didn't even bother to register our names in his log. He suggested us we stay at Varkala beach, another 20km from Kollam, which is more like Goa, so that we can enjoy more.
Today, we saw a change – the Masjids had given way to Churches, a lot of Churches. The local population too could speak better English.
Route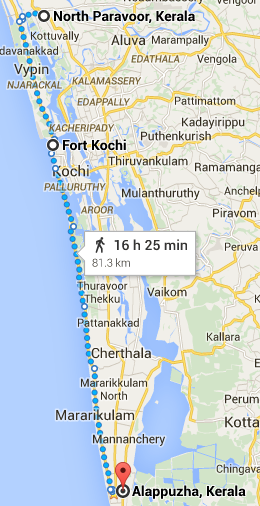 River Crossings
Chendamagalam Lake, North Paravoor, Kerala
Vembanad Lake, Fort Kochi, Kerala
Endless number of backwaters, Vypin to Alappuzha, Kerala
Numbers
Rivers / Puzha – lost the track
Ghats – 0
Length – 82 km.
Time – 8:30 hrs