Feb 16, Day 3 – to Marvanthe Beach, Karnataka
The alarm buzzed normally around 5.30am and I woke up, getting through the early cycles necessary before the long riding of the day, which included stuffing ourselves with Bananas. Surya usually woke up around 6.15am. Today I was already awake around 5.15am, the body already accustomed to this early routine. It was close to 7 Surya just finishing off his share of bananas when he looked at the watch and cribbed
ये घड़ी आलसी बिलकुल भी नहीं है !!!
We laughed over it and head straight to our cycles and leaving Kumta around 7.30am. Today we had a tourist spot to visit, so we were excited about it however the road wasn't any bit interesting.
Slowly and steadily riding right along the edge of the Panvel-Edapally highway, getting down from the road on the red sand and pebbles when a truck zipped a little close for our comforts we moved along till we came close to Murudeshwar. My GPS showed that we were around 3 – 4 kms away when we started looking for the Shiva statue on the right towards the west. Soon Surya spotted it, but before I could have a glimpse it hid itself behind trees. We were excited on the highway when we both had a clean view of the temple and the statue. Just ahead of the statue stood an astoundingly tall gray trapezium, most probably a temple. Murudeshwar Railway station was on the left, the closest railway station yet in our trips, we head straight towards it, it was around 10.30am. Took a few photos inside and outside the station came back to the booking office where Surya showed to me…
त्रिवेन्द्रम मात्र १३२ रुपयों में पहुँच सकते हो
Outside, we headed straight to the temple, a typical tourist sight with hordes of crowds, vehicles and buses. We were hesitant to lock our cycles outside but one of the flower vendors assured us and we got inside, climbing a little bit and looking back at the magnificent Murudeshwar beach. Clean water and a beach over a kilometer long. The trapezium shaped temple was 19 floors tall and had a lift / elevator charge of Rs. 10 per person if anybody wanted that sight. We then entered the cave (for a small ticket fee) which probably portrayed the story of Ravana in sculptures and paintings. Sunny outside we looked up at the huge Shiva statue, which somebody told us was the biggest in Asia. We came outside it was close to 12pm and thought we should have lunch before we ventured further.
We stopped at a Pure Veg. Kamat restaurant where I gestured with my hands for food. The girl at the counter understood that part but said she'll have to check and went in and came back with a sad face saying
no cook… no dosa, no vada
to that I replied, that I wanted lunch. She happily nodded
yes … meal only … sit
We had our first taste of Rasam. A soup like warm spicy drink made up of Tomatoes, spices and chilly powder. Even though it was hot and spicy it gave us great feeling ! After lunch we waited there too cool ourselves nearly spending half an hour after lunch and leaving the place around 1pm.
The road as expected was bad, almost immediately we stopped for Surya who had to purchase clothing line clips to hoist his wet clothes on a bungee chords on the cycle.  Bhatkal soon followed which we thought was a town with less no. of trees, too many dumping yards of metal objects, machinery, etc. We carried on till it was already past 5 and Marvanthe Beach was yet another 15kms away. We finally reached the beach around 6pm. NH-17 turned rightwards from the mainland towards the west, climbing down with the beach in sight !! It was a fabulous view. The highway was next to the beach with just the tea vendors separating the beach from the road. We saw a lot of truck drivers stopping for tea and snacks at these vendors.
We saw just one Resort there, we thought lets check if its OK for us, since there were only 20mins or so for the sun to set. It seemed OK for us and post laundry and bathing we headed straight to the beach. Today was our longest day, probably since we had spent around 3 hours at one place, Murudeshwar. We were tired initially. But the routine of cleansing and having a nice cold shower adds back 20-30% of energy back to the body.
We headed straight for the beach, sat there looking at the drowning sun then headed to the Resort / Hotel. At night the hotel guy had promised us our dinner of dal fry, rasam, mixed veg.  subzi and roti on our orders. We sat outside our rooms under the trees while the cook made the food inside. He came back with really piping hot dal fry, Rasam with taste so good that it still waters my mouth as I write it. The food was probably the best we ever had on our trip. As we ate our food the guy serving us told that if we crossed the river next to the temple we would be in Padukone, the village of Deepika Padukone. Alas we didn't have as much time !
Route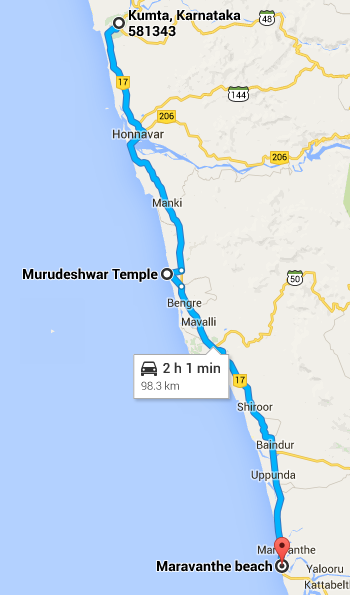 River Crossings
Badagani River, Haldipur, Karnataka
Badagani and Shravati River Estuary, Honnavar, Karnataka
Alvekodi River, Murudeshwar, Karnataka
Pallinadi River, Malavalli, Karnataka
Venkatpur River, Malavalli, Karnataka
Chowtani River, Bhatkal, Karnataka
Byndoor River, Bijoor, Karnataka
Yedamavu River, Nagoor, Karnataka
Numbers
Rivers – 8
Ghats – 2
Length – 99 km
Time – 10:30 hours