Well … I've aged. Now in my 7th year of running. I've been having problems with my health, my carburettor isn't functioning that great. I've had a few surgeries on it, float pins changed, cleansing, rinsing, you name it. My shockers too have taken the brunt of all the bad roads of Mumbai and cross terrain riding that I've seen myself and Rutu through. Other parts feel rusty, like literally.  But … I have the burning desire to carry on and he is happy with me… still.
This one was no different story, Mumbai – Mt. Abu – Bhuj and back, another 2200 kms+ of cross-country.
It was December and just like last year where we roamed around the lagoons in Kerala, this time Rutu had the arid India in mind – Rajasthan's Mt. Abu and Bhuj, Gujarat. Here route.
Dec 14, 2013
The mantis, R-15, greets me early morning around 6.00am. She is all shining, showing off her best with her duo, Manas. While I'm still the same, standing tall and strong, no-frills girl. This trip as well, I'll be hosting the Saddle bags full with road-rascals' luggage, Mantis' spares, etc. Rutu comes with the heavy saddles and were off by 6.15am. Rutu is quite protected with Manas' jacket, over-dressed according to his usual simplistic style of shorts and flip-flops.
We meet the Bullying Bison just ahead of Dahisar check-post, Bison with her equally amassed rider, JK. Next stop was for a breakfast somewhere on the outskirts of Gujarat, we lay parked like always in a tri-headed formation under a green shed, The touring sisters as we are called. While we bitched about our guys, probably they lechered of others, the usual suspects being Multistrada, CBRs, KTMs and the other voluptuous Rs like 1000R and 1000RR, R1 and so on…
The road till now had been smooth, Mumbai-Ahmedabad's NH-8 is a well known friend for us tourers. NH-8, keeping to himself, not having a strong character that plays upon us. However the air started getting from little polluted to being strongly particulated by the time we reached Navsari, Surat. The worst when we reached the outskirts of Ankaleshwar, Bharuch. Stretchs of NH-8's skins too had developed a rash of trash and pieces of cloth! Ya you read it right, pieces of cloth. While our masters never cared to navigate through it, I still felt uneasy touching it. Probably it was too much for the guys as well as they halted for lunch somewhere between Bharuch and Vadodara (Baroda).
Rutu and others were very happy of the Punjabi Thali, a system that the guys weren't really accustomed to. It had a jeera rice, dal tadka, paneer subji, rotis and buttermilk. Which according to them was easy to pick from the normal useless clutter of a menu card. There on, the NH-8 had a smoother dermis.
The outskirts of Vadodara was a pain, wading through a populous sea of fellow cousins, other automates, cars, trucks. My species wasn't allowed on the Vadodara-Ahemedabad expressway and we had to go along the trusted NH-8 which was all under repairs, getting its base set, skin relayered, it took us almost 2 hrs to reach Ahemdabad. We were still 144km away from Palanpur our destined stop for the night and it was already 5pm. Our guys decided to take the Sardar Patel ring road and head towards Mehsana where they could find shelter for us and them alike. As we moved through the dark but still assisted by a equally friendly colleague of NH-8, passing through endless number of tolls, our guys perhaps decided enough of the dark darting when they finally stopped at a hotel in Kalol.
Dec 15, 2013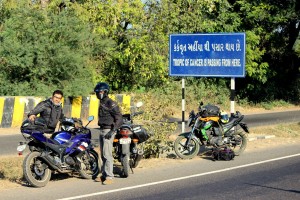 We had already seen JK come down for his smoke, tea so that he could get his bowels moving smoothly. All of them came with the heavy luggage around 8 and we were rolling towards Mehsana when we cut through કર્ક વૃત or "Tropic of Cancer". Guys had a breakfast in a town called "Unjha" where smells and sights of Jeera or Cumin was all around as Rutu put it.
Palanpur and then Mt. Abu followed. Roads as expected and heard were fabulous in Gujarat. Unlike the Ooty road that I was expecting with series of Hair-pin bends, this one had a single narrow lane climbing all the way up to the town. After finding a parking place and a room for themselves, guys headed for lunch in the town and were discussing typical food-menu while returning back from a restaurant. They headed back into a Gujarati restaurant where there was no one but our guys. It seems they had a rajasthani thali and my guy had Daal baati. They then dessert-ed on Churma.
Me and Bison relaxed while guys roamed Nakki lake. While we checked out an occasional R-15, a roaming CBR-250.. I guess our guys did something similar. The evening was cold when we returned back.
Dec 16, 2013
I guess everybody had slept more than they wanted to. 'cause it wasn't till 8.30am when Manas came to check his Mantis. We were unsure of the day's proceedings and we waited while they had a breakfast in the golden sunlight in the almost frosted-dew-drenched garden. When the guys came back to us, it was 10.30pm and it was with their entire luggage, it seems they had planned to go ahead instead of spending time in a typical honeymooner-infested city.
The road to Bhuj had Palanpur, Deesa, Radhanpur, Bachau. Palanpur onwards the road is what I would say too huge, too straight, too nice. It felt like an ant was crawling on a tarred road. Thats the perspective one could get about a 150cc on this road to Bhuj from Palanpur. All that we saw were trucks, long trailers and a few cars if we were lucky. Guys stopped just ahead of Radhanpur to have lunch. It was a small, local road-side dhaba ( a gujarati version of it ). It was 3.30pm when guys were back from food and I heard Bhuj was still 250km away !! But all were bent down and raced along till Bachau about 70km away from Bhuj where we took a road off from the NH/SH. I had lost the track of the road. The sun was setting behind Bachau, and I had to ensure I was bright enough to plough through the dark. Bhuj came by 7.50pm. Where the guys found a posh hotel, Grand 3D which had a huge parking space just for us. I assume it was lavish for them as well. Guys dined at the restaurant next to the parking lot.
Dec 17, 2013
I had heard many talks about the White Rann of Kutch, typically about the big-ass Bullets' ride on the white sand (Thats what I thought initially – white sand). We were cruising up north towards Dhordo which was about 20km away from Hodka, the junction for getting to White Rann of Kutch or Kala Dungar (literally – Black Hill). The plan was set to get to Kala Dungar first (East of Hodka) spend time there, have lunch, then move down back to Hodka and west towards Dhodro for the White desert.
Kala Dungar was a small mount about 500m above the ground. While we were parked on the edge of the hill over looking the Great lake of Kutch which extended beyond the horizon. The blue of the water easily mixing through the hazy gray. Guys spent more than an hour on the hill enjoying the scenery. All of them more accustomed to watch a sea with lush green forests of Konkan and the Western Ghats, but this was different, a huge lake right between a desert!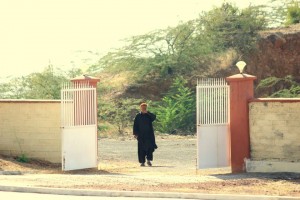 On our way down, Rutu decided to stop by the "Torna resort" which seemed like cottages for staying. When we reached there, a huge pathani fellow with Orange colored hair welcomed us in. Another fellow asked them to wait as the lunch was being prepared. After more than 2 hours or so when the guys were back, they were discussing all the they had found about this place, proximity to Pakistan, the inflow-outflow of people, herds. More than 5000 cattle roaming owner-less in the Pakistan side and Indian's greed to get some of the cattle for themselves and their mystic stories of crossing the border and sometimes getting trapped in the other country, stories similar for people on both sides of the border.
We finally descended Kala Dungar not before 3pm, and head towards Dhodro. When we finally reached, Guys were perplexed to find out that they didn't have a 'BSF-pass' that was required to visit the White Rann. It was to be obtained at Hodka chowk. Rutu asked the BSF guard if they could let them through, so came their boss, a guy in Green civilian T-shirt and a camouflage pants and military boots. I heard their conversation…
– Sir, let us go through, we kept asking all the while for pass and we were asked to go ahead.

– OK, you dont' have a pass, you have not paid

₹100, which was to be used for Kutchi people's development. What will you do for the country if I allow you to go ?

– Sir, we pay tax!

– That's OK, but pledge, keep you hand on your heart and say, you'll help a person of India.

– Sir, we swear we'll help.
We heard guys later say, that initially they felt he was just joking, but he was damn serious. Then I overheard Rutu speaking with JK and Manas
– When I asked him "Sir mera Driving ID, I've given, but I don't know your name. If I return late in the evening in the dark, where shall I get my ID from ?

– To which he replied "जिस भरोसेसे हम आपको जाने देरहें है, उसी भरोसे से आपको मिलजाएगा !"
Rutu admitted he didn't have guts to argue further…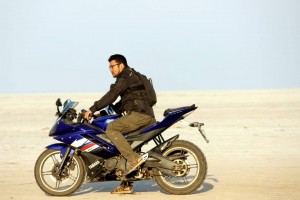 The White Rann, as we had initially thought, it was made up of white sand, But we were wrong. It was the white salt that had crystallized over the wet salty mud flats, that created an illusion of a white sand desert from the distance. As the sun went down behind the salt pans, the moon still waited, when it finally came up so did the glowing crystalline salt. It was yellow at first, but then turned into blue. The beauty increasing by the minute. Around 7.30pm the guys came back and we headed out of the Rann Utsav area, and halted just on the outskirts for tea. After 15mins, we were back on the road cutting through the slightly chilly desert. In the day what was my first ride through a desert, yellow-brown arid flats. The vegetation only a little bushy shrubs, throny trees and some weed, An endless flat area where one could get lost with no guidance of any landmarks, like hills, big trees, water, just arid flat land. Now the scene was dark, today was a full moon, shining bright, but it was still not enough and I was limited to 60 kmph. Only when there were bold road lines, would I be upped to 70kmph. If a reflector lined road was in sight, I was stretched to 90kmph in the dark. We came back at the hotel around 9.30pm where the next day was more of local sight seeing and relaxation, easy on us bikes.
Dec 18, 2013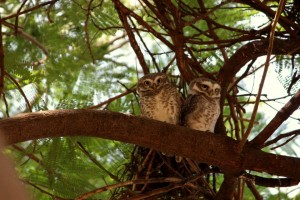 The next day, we headed first towards the Swami Narayan temple, new temple built after the quake. Post the 99 crore worth institution we headed towards the Rajendra Park, which is in the middle of Harmirsar Lake. A beautiful park in the centre of the city. It had a very calm appeal to itself, we though I didn't sight any couples enjoying the lonely, yet very peaceful and safe place, I'm sure it was one of the places where people from Bhuj came by to enjoy family time or cuddling time with their lovers. Next stop was the palace museum after which we headed for lunch, Next up – to the back of our hotel, the Bhujio fort. Rutu was eager to reach the top of the fort, JK didn't even try. Manas trailed behind but finally manged to reach the top. I'm sure they had a good view of the city there. The day had been easy on us bikes, not a lot of revving just idling through the city. The day after was gonna be again on the road. Off to Mumbai via Ahmedabad, Vadodara.
Dec 19, 2013
We left early morning around 5.45am first towards Bachau, then connecting NH 8A, leading us straight to Ahmedabad outskirts. The road not that great till Ahmedabad, I had hoped the regal layout as had it been towards Bachau from Palanpur, but wasn't that grand. Guys had a lunch after we moved along Ahmedabad outskirts via Sardar Ring road towards Vadodara. We passed Vadodara early by around 4.30pm we had covered 430km+ in less than 12 hours and were more than half way to Mumbai, guys wanted to rest. They decided initaly decided to head towards Bharuch, but then relented to JK's antics and stopped at Karjan at a motel near TBEA factory.
Dec 20, 2013
Heading on the road around 6.30 am in winter in Gujarat around Bharuch is dreaded nightmare for a Asthmatic patient. Its cold, the heavy air settling over Narmada and its tributaries. Adding to it the pollution of all the industries near by. A place somewhere on the outskirts of Navsari was selected for breakfast around 9.00am. There on we fired all cylinders till we had crossed the Maharashtra border and the Beer Bars greeted the travellers just along the highways, still riding .. the Mantis came from behind, Manas indicating Rutu to stop. He said he was feeling very very drowsy. So we came to a halt in the jungles before Manor. Where were side-standed and guys had a nap of 30mins. Virar, Vasai wasn't then far away. Wished the Bison a goodbye around 1230pm and then reached home by 1.30pm. A journey through the arid Gujarat and borders of Rajasthan had come to an end almost 2200km in the running.