March 2022
The heat had already picked up, but so had our zest for another long bike ride. The last big one was back in 2017. It was getting difficult to think of a destination as all directions north and south of Mumbai (atleast realistic distances) promised only one thing – rising mercury levels.
It was going to be our first big ride with our larger machines
BMW 310 GS for me
KTM Duke 250 for Kanade
Dominar 400 of DevD
Thoughts of Himachal Pradesh were quickly out of the window with its 3-day one-direction ride to reach Manali or somewhere close which entailed atleast 7 days of just riding to get to a place and back home. Central India would've sizzled, which left us with only 2 options. Either pack our bikes in a crate and send it somewhere or go down south. With Devendra's bucket-list item of riding in Bandipur reserve and mine to visit the Jog falls created a perfect union of a plan falling in place.
A tentative plan was hatched
day 1 : mumbai to outskirts of Davanagere : 730km 12hrs
day 2 : towards mysuru 350km 6hrs
day 3 : mysuru palace, and roaming
day 4 : mysuru to ooty 3hrs via bandipur
day 5 : ooty roaming
day 6 : ooty to mangaluru 383km 9hrs
day 7 : mangaluru to jog falls 220km 5hrs – (back to gokarna 120km 3hrs or honnavar 68km 1.5 hrs)
day 8 : jog falls to kolhpaur – 6hrs – 362km
day 9 : backto mumbai 374km 7 hrs
day 10: ??? backup
This plan was along a similar ride that I had done 9 years back. Well – nothing wrong in history repeating, definitely not when its sight seeing.
Day 1, to Hubli
Mar 26, 2022
Davangere was the original destination, but we got caught in a massive Lonavala traffic jam (where some Chemical tanker had turned turtle). It costed us an additional 1 hr just to reach Pune.
The bigger machines under our crotch meant we were riding faster than what we had done in our earlier rides. By the time we crossed into Karnataka it was 3pm post our lunch. And as expected the AH-47 just opens up like a new engine after a few 1000s of km and a nice drink of synthetic oil.
Coming into the Belgaum area, the clouds had started to thicken cooling the weather from high 30s to sub 30. But it also meant that precipitation was about to be encountered. As we hit the wretched single lane Dharwad-Hubli section – it hit us, and hit us hard. I didn't pay any heed to Kanade's suggestion of waiting at a tapri for tea and seeing out the rain, so we continued into a drenched halt somewhere on the road. We lost another 1 hour for the rains and Davangere was well out of sight as it was already 7pm by the time we reached outskirts of Hubli and decided to call it a day.
Day 2, to Mysore
Mar 27, 2022
तिसऱ्यांदा हगायला गेलो, फुल पाणी !
That was Kanade's reponse when he came back from the toilet while we waited for him at the Shri Siddaroodha Swami Math in Hubli. Kanjurkars wanted to have a darshan before we headed further. As we reached outskirts of Devangere we halted for breakfast, where Kanade again complained of stomach cramps, and he visited the small make-shift structure in the back of the hotel, yet again!
The heat was getting unbearable along with our constant vibrations of motorcycles running over 100kpmh. With Kanade's breaks we thought Mysore too would be difficult, however a Roko that I had at least put a break on his uncontrolled flow.
We took a pleasant break from the AH47 and moved on to the smaller roads from Sira heading towards Mysore. The state highways were slower than the 100kmph+ AH, but was cooler with lots of trees, trees that we started to observe and wonder about their names. Huge canopies, covering the road with the summer blooms of yellow.
It was an uneventful journey further on keeping aside a "tasty" bhelpuri that DevD had in one of the villages. Mysore's hotel was next to a hospital, where Kanade enjoyed a calming accent of a Dr who prescribed him Lacto Bacillus. The day end with us roaming, eating in the popular Forum mall that was 10m walk from our hotel.
Day 3, Mysore
Mar 28, 2022
Sporlac had done its work. Kanade was back with his uber confidence. Today, it was gonna be local sight seeing, with the zoo, RRR (the hotel) and the light show of Mysore Palace.
But it began with Hotel Original Vinayaka Mylari serving hot dosas with a specific tasting aloo subzi. The zoo was next in the heat, however, the zoo was full with tropical trees with a meshed shadows hitting the floor. We were amazed by the temperature drop and started to observe the trees even more along with the splendid collection of animals and birds ranging from the tropics of East Asia to that of Brazil!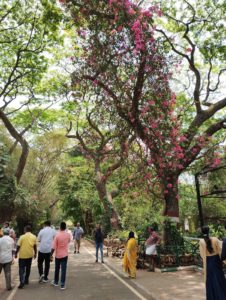 RRR, the hotel was a big surprise, hardly had veg. which was the definition for the food for the day for Kanjurkars. We ended up having lunch on a street side Dosa-idli vendor. The evening light show invited us to a scam, the locals running amok on the gates of the palace explained that its some off-day for the palace with no show, rather we should enjoy GST free shopping in some shop. BS!
We fell for it, but rather ventured out for a decent restaurant and ended up having food in the dens of the Gufha restaurant with its dark decor and Shikari Shambhus waiting the tables. The food was great as well.
Back at the hotel, we figured out which trees were really beautifying Mysore, it turned out the most common one was Shirish (Rain tree) and the yellow blooming canopy was the Copper Pod or the Yellow Flame tree.
Day 4, to Ooty
Mar 29, 2022
Missing Mysore Palace was not something that we expected after a day's halt. So we headed out for the Palace in the morning before we moved to Ooty.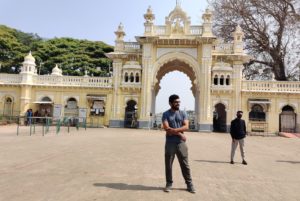 The way to Ooty was via Mysore Airport and crossing the Kabini river reminding me of the wildlife reserve known for its black panther or the black leopard. Bandipur Tiger Reserve came up in the heat, the deciduous trees had already dropped its leaves in this summer time. However the weather was pleasant with a some cloud cover. We crossed the Karnataka state into Tamilnadu changing the forest name into Mudumalai Tiger Reserve.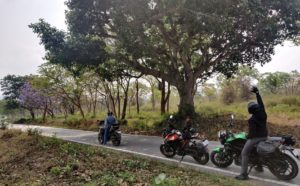 As we started climbing the hills after the forest crossing we had the best lunch of our trip at a small hill town of Gudalur at the Venus Hotel. We climbed further towards Ooty I was waiting for the hairpin bends from my last trip. But what greeted us were the tall Wilson plantation's Nilgiri trees or the Eucalyptus. With that climbing altitude the mountain weather showered us with another free treat of rains.
Weather in Ooty as expected was cool and we headed out in the market for our dinner / snacks and ended up in A2B restaurant full with people from Bangalore, Pune, Mumbai. It felt like a typical tourist place.
Day 5, Ooty
Mar 30, 2022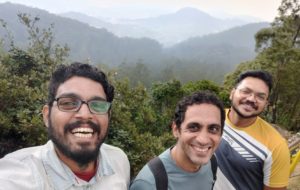 A talk with the owner suggested that Ooty's Dodabetta peak was closed for road construction, however when we ventured out, it was all normal. We spent a typical boating experience in the lake and then proceeded for Dodabetta.
Lunch was followed in the Muglai styled Angaara restaurant followed by our retreat to the hotel where we all just lazed doing nothing. The evening followed sooner than we expected and we just enjoyed some street kababs and tea.
Day 6, to Kadur, KA
Mar 31, 2022
The last day, I had felt a little under the weather. Luckily the morning was all fine and it was our day to head for Kadur on our way to Sharavati Valley's gem, the Jog falls.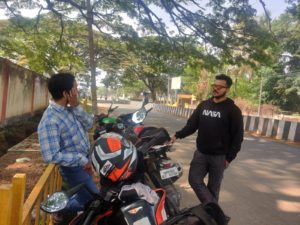 It was a long day ahead almost 9hrs of riding however, most of it was through smaller towns and villages skipping the big large 6 lane carriageways. By Ooty we had agreed that it was pointless for us to ride hard with the buzzing machines on the dry, wide man-made heat traps called the National highways. We had settled on a calmer 90kmph and consciously finding routes that ran through the "green" patches in Google maps.
At the outskirts of Hassan, we took route towards Belur ( as I had kept an incorrect mental map ). However while waiting for lunch on outskirts of a lovely KTDC Belur resort, we found that there is an old temple in the city which was quite famous. We headed there post lunch which finished only by 4.30pm. Had a nice tour of the temple that reminded me of Hampi's architecture and sculpture.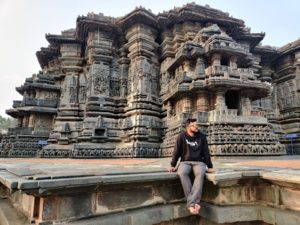 Back on the saddles, it was already sunset time when we headed through Chikmanglur's hills and it was our first night time riding experience of the trip when we spent our last hour of riding in pitch dark highway from Chikmanglur to Kadur.
Day 7, to Jog Falls
Apr 1, 2022
Today's ride was a shorter one, but still a 4-5 hours long one to Jog Falls. The ride reminded me of our route to Kadur via smaller towns with a lot of greenery. However the last 1 hr of the route was through denser forest around the road where we managed to have a fleeting glimpse of the Indian Cobra in its hooded stance as well !
As we headed in the last 10km we wondered how and where the falls are. We were just riding on a plateau with no real steep hills to accommodate for the dropping torrent. But the last 7-8, we started descending steeply and going through thicker cover. Crossing the Sharavati river and finally at the destination, we could see a sharp cliff but still no waterfall. We dreaded if the heat of the summer had led the majestic cascade into just a trickle. But luckily a few days of shower earlier had ensured that we didn't miss the regal site.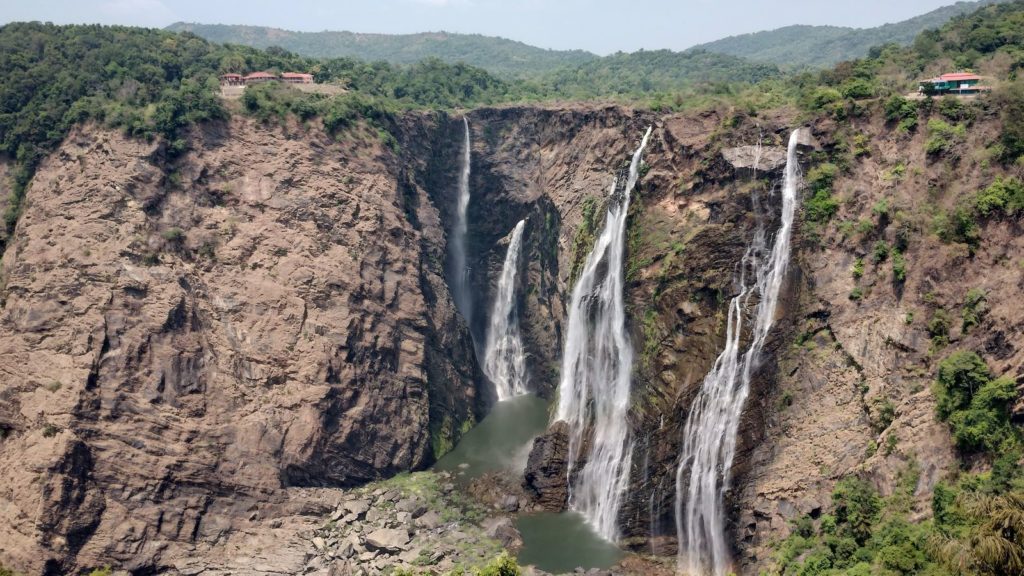 As we enjoyed the view, we pondered. Our original plan had to stay at Jog and head out the next day on our return leg to Mumbai. But we decided we'll head out to Hubbli for the night's stay, so that the next day, Saturday Apr 2, everybody could be home leaving a Sunday to rest. After a biscuits and buttermilk to replace a meal we headed out again through villages and towns hitting Hubli by early evening.
Day 8, to Home
Apr 2, 2022
With a perfect timing of having a reserve day of Sunday, Apr 3. We headed out for Mumbai. As we reached near Belgavi we were amazed at the summer bloom in full regalia, The Rosy trumpet, the Pink trumput, the Copper Pod (Yellow Flame Tree), the Rain trees and few lavender blushes of the Jacaranda.
We had another great veg lunch on the outskirts of Wai at Abhiruchi restaurant in Surur. It was the hottest day of our travel, even guzzling litres of water we were hardly losing liquids to urine.
At the lunch,  there was a small change of plan for our rides. My parents were in Pune, and my kid-nieces wanted me there. So at the Sinhagad junction we had our last laughs with some water and jokes on Kanade and "phone time" of DevD, then headed our ways. Kanjurgmarg as I read on Whatsapp came by 8pm. By that time I was already playing in the garden with the kids after another bike ride, but on an Activa!
Directions
Numbers
Distance travelled – 2500 km
Hours on Saddle – 50 hours
Mileage – ~30kmpl
Petrol consumed ~ 83 litres
Fuel Cost –  ₹9000
Stay + Food ~ ₹10,000
Total Cost ~ ₹20,000
and .. the priceless love and shade of the summer blooming trees