Ikk Kudi jiddaa naam mohabbat …
One of the many songs that I kept humming inside my balaclava. Wondering what its chords could be, as they turned out to be F# Major, B Major,  E Major. Or crooning to the base guitar in the song "Dil Se Re"… The song reminds me of the storm that we faced riding to Kankavali –
A road winding through the woods, the white borders defining a strong ardent character. As we raced ahead, the storm clouds hovered in, turning the bright sky into a obnoxious dark gray shadow. The trees rustled and the leaves fell apart, straight down the road we could see the rain closing in turning the clear sight into a hazy might. Lightning struck places a many followed by the thunder cutting through the forest. We decided not to ride our luck and rather wait it out…
Another one of my Unicorn's 1000km+ bike rides. This one was originally spanning through Dudhsagar waterfalls, but as always rains played  spoil-sport and had to resort to Maharashtra's tallest waterfall – Thoseghar.
Facts
~ 40 hours on the saddle
~ 1700 km
~ 45 litres of fuel / petrol
Hash tag – #reachedhomewithoutbruises – ? ? ? Thanks to Kandya
Directions

Sep 30, 2017, Day 1
First stop was Velneshwar, Guhagar, around 300kms with the newbies. They had to tackle the fast moving and twisty Kashedi ghat. If this one went through well, rest of journey could be easier. Ride was fine but by the time we reached Velneshwar, our heads were spinning thanks to hunger and the winding roads leading from Guhagar. Found a nice little stay opposite to the beach.
Oct 1, 2017, Day 2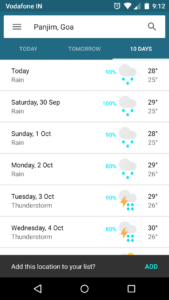 Weather seemed to be playing its own game, showed showers in Goa. My sister also warned us about the Dudhsagar may be closed due to rains !!! The second day reminded all of us what a bike trip could have in store, Shoeb's chain guard came off, and we spent almost an hour near Rajapur trying to get it fixed then eventually completely remove it. Luckily that was last of our bike problems. As we moved southwards towards Kankavali, the clouds took over the sunny place and wrecking a thunderstorm over us, Another 1/2 hour lost in a shack wait for the heavy thundering rains with the lightning to pass away. But the damage was done, we were wet,  it had got slightly darker and we contemplated on staying for the night at Kankavali. Devendra persisted to Go-For-Goa, and we trudged along on the pothole ridden NH17 from Kasal to Kudal. It was near Zarap where the single laned road widened into a 4-lane with a divider. The new kids Babu and Kande couldn't resist to unleash their respective horses Hornet and Duke250. As we entered Goa, rain again made its presence felt. By the time we reached Anjuna it was raining pretty hard and we had ridden last hour in darkness. We found the worst rooms of our trip.
Oct 2, 2017, Day 3
Had a two-pronged breakfast at Calangute beach – Infantaria – which with its shitty and overpriced service left us to fill us at the opposite McDonalds where we hogged on the lovely pan cakes which at Infantaria were somewhere between ghavan and poor dosas. Devendra pledged he'd never go to hotels by their ratings! We planned to enjoy south Goa, and headed to Margao where we booked a fantastic hotel in the heart of a village – Hotel Jasmine by Mango. Had a wonderful dip in the swimming pool and then headed to the Margao city for food which ranged from Vada pav on the shacks to Dominos pizza. Day 3 was more of a rest day lazying around.
Oct 3, 2017, Day 4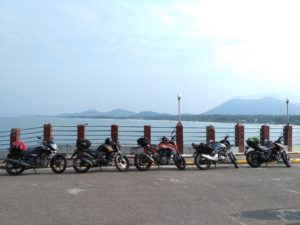 With Dudhsagar closed for sure, we thought of heading southwards to Murudeshwar to see the iconic Shiva statue. The turning, twisting, climbing and dropping roads of south Goa got Babu's pace to drop and all those who tailed him. By the time we reached Karwar for breakfast the ghat sections were over and we enjoyed lovely food by the sea. We reached Murudeshwar early noon where I mentioned "flight" was the only other mode of transport that I missed to reach Murudeshwar, car, bicycle and now motorbike all had been done. Devendra corrected me – Walking – still is pending. A little search and we booked another good hotel – RNS Residency which had an awesome view – not just that but it had two rooms interconnected – The seaview, the AC breeze and speakers with songs blasting through had drenched our senses. Our stomachs and another two-step lunch, Naveen Beach Resort, utterly sad meal and then to Kamath Home Stay and Restaurant where a lovely local south indian thali awaited us. The evening was spent in the locks of Shiva and the stories of Gokarna.
Oct 4, 2017, Day 5

We had reached the southern most tip of our journey and had to start back north – Our next stop was gonna be Belgavi, Karnataka. The new ones had endured the rough NH 66 (old NH 17) well and it was time for a treat, the AH47 (NH 8 – old NH 4). But for that we had to cross the ghats and move eastwards. Here I encountered a gem of a road – NH 52 (Ankola – Solapur). The tarmac was in a pristine condition showered with lovely dense jungle and the Arabail ghat. Babu was having stupid fun trying to overtake 400 horses' multi-axled Volvo 9400 coach. While rest of us let it pass and took the right turn to Belgavi, Babu overshot and had to be given address of the hotel to reach directly. Everyone was amazed by nicely put Belgavi city and the area where we stayed near KLE University. Here too rain hit us hard while we had our junk-food dinner at KFC and McDonald's.
Oct 5, 2017, Day 6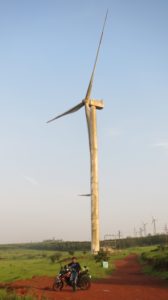 Even the empty AH47 is fast on Karnataka section, it reduces itself to a SV Road (Mumbai guy/girl would understand) as soon we hit Kagal, it was only after Kolhapur had passed away that tractors, cyclists, motorbikes, road-crossing villagers had reduced to let us increase our speeds to moderate 80kmph. Originally we had thought of enjoying Kaas plateau on our trip, but yet again rain had screwed us hard, with the Kaas plateau road caving in, tourists were stopped from going  ahead. Instead we moved to see Thoseghar waterfalls and the snapshots with the Suzlon S97 90m 2.1MW Windmills.
Oct 6, 2017, Day 7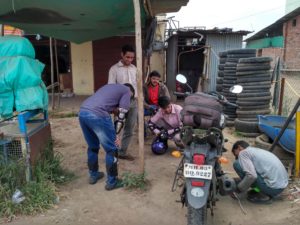 Last day of our trip, we woke up easy by 7am and left by 10am. At the petrol pump I was explaining to Devendra how to keep bikes in a good state during tours when we found his FZ-S' dip stick showed no oil !!! We decided to move towards Pune where we would get the oil. Near Shivare while we enjoyed another session of McDonald's, Devendra's bike too had its fill of Engine Oil, The old oil – black in color drained giving way for the new. FZ-S was now more confident and peppy as DevD acknowledged. While entered Pune by-pass, Rains showed us who was the man of the trip. Thundering it came down while we awaited under a bridge to let it pass. Drenched, we decided to move ahead slowly as the downpour turned into a trickle. At Panvel we decided to have another go at our last meal of the trip at Shri Dutt Snacks. With indian burgers (Vada pav) and Tea we head into ever trickling rain back to the shelter of dry homes.