A Saturday, new Ubuntu in the Downloads folder. What is it that you expect a linux user to do?
I installed Ubuntu 12.10 on Lenovo X201. I had 10.10 installed previously. I decided not to upgrade, but to clean install. It didn't give me upgrade options anyways.
Post installation, here are some of the things I faced / enjoyed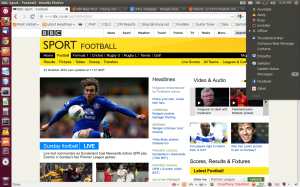 Bootup time almost 25 seconds, it was around 15-20s for 10.10. A BIG downside for this release!
The Dash feels much quicker. However the gnome-shell still feels snappy as opposed to dash
I fuckin love the WebApps concept in Unity – That has actually made me stick to Unity.
Search in Unity still makes you click – as opposed to gnome-shell – Search the right string and hit Enter. That doesn't work in Unity
I hated the original Alt+Tab utility in Unity, so installed Compiz Configuration Settings Manager (originally ccsm – so don't search for that in apt). I replaced it with Static Window Switcher. It worked but then strangely started showing bugs of ghost windows moving in and out of the gray bar – little distracting, but didn't break anything. (I was too careless to resolve conflicts 😛 – Was that the reason ?)
I adore the complete integration of Social World into the top-right corner of Ubuntu. You name it, Gmail (the Web App of that one is "क्या बात !क्या बात !" It shows the unread mails in Inbox, TagX, TagY, all in that top-right corner dropdown). O… continuing with integration – Facebook, Twitter, Chat, etc. However I'm an old time user of Pidgin, and have tonnes of logs in Pidgin which I don't want to lose. I have no idea how to make Pidgin as the default integrated chat client into GNOME3 and Unity alike. – Help would do. Thunderbird too integrated nicely since the last release.
Ubuntu – Amazon Nexus – Naaah ! Disabled the "Online Search Results" from the "Privacy" application
I'm not a big fan of the Dark Ambiance theme, but with the other themes support in terms of UI elements, logos, etc.. I've got to stick with Ambiance atleast for now. I would've preferred the old GTK2 based Clearlooks theme.
Score: 7/10 – All the marks getting lost for the tacky compiz and inability to change defaults easily without installing other apps.