April 14, 2017
Fridays are good, even better is the Easter one. Gives us an opportunity for a long weekend. This one we had Tarkarli on mind.
Route
We decided to take the AH-47 / Old NH-4 / New NH-48 as it was faster (supposedly) and Google Maps showed around 10+ hrs of traveling time. Old NH-17 / NH-66 Mumbai Goa highway was sure slower for its single lane. As we neared Kolhapur we called up the Tarkarli resort owner for a suggestion between two routes
Via Gaganbawda-Vaibhavwadi
Via Radhanagari-Phondaghat
The Radhanagari route was suggested, This one seemed to have longer ghats also some forest section which was enticing. But the longer ghats meant slower speeds. We opposed Google's suggestion of via-Gaganbawda route.
Radhanagari route wasn't great random potholes and patched roads. Only a section near the Phondaghat was smooth, well paved and marked. Rest of the section till Mumbai-Goa highway was strictly ~50-60 kmph. Once on NH-66 road was smoother but the undivided stretch meant slower movement and not to mention the difficult and far and few overtake maneuvers. At the Kasal fork, we moved towards Malvan on the SH-182 Kasal-Malvan Road almost 40km in length. This one without the heavy vehicles was better to drive.
We had left the JVLR junction in Mumbai around 6am and reached Devbag, Tarkarli only around 7.30pm !!! Were quite unsure if the Radhanagari was the best option.
April 16, 2017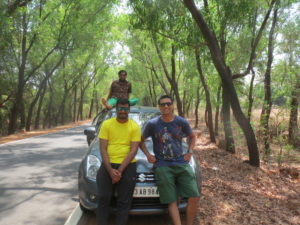 Back to Mumbai. We didn't want the same patchy Radhanagari route. This time we decided to stick with Google's senses, via-Gaganbawda. This route took us on NH-66 upto Talere around 10km north of Kankavali town where it took right towards Gaganbawda ghat. The initial section till Vaibhavwadi was super smooth and was new, laced with trees on either side of the road.
There was a small bad patch before it lead into the ghats, the Ghat section was looong… BUT S-M-O-O-T-H nowhere to be compared with the phonda-ghat route. Post that route flattened but had a nice smooth 60+kmph ride till we were 15km radius of Kolhapur where things slowed cause of two wheeler traffic, but nowhere as painful as patchy-potholed-road section.
From Kolhapur – AH-47. As we crossed Katraj, south of Pune, we moved into the Pune traffic which took almost an hour to cross ~40km,
We reached our homes around 1.30am, We had left Malvan around 12.30 Noon. This too had taken us 13hrs, but this also included heavy Pune traffic, and an hour+ lunch break and another 45min break for late-night snacks around 11.30pm at the new Food mall near Lonavala.
Preferred Route
Numbers
Distance Traveled: 1180km
Tiago XZ Petrol mileage: 18.2 kmpl (as shown by MID, with all-time AC in City Mode)
Car Time: 26 hours
1/3 rd of our 72 hours / 3day vacation was on the road. But who cares! It was a road trip !