I had got my dream toy, a BMW GS (the only affordable one) – G310 GS – a day before my birthday. Post that I've ridden it on almost all kind of roads. From the well paved cities of Mumbai (really !?) to the monsoon beaten NH17 closing to the boundaries of off-roading. More than a month has passed after my first service which was bang on 1000km. I was hoping to give a gist of how it feels owning one and having it under your thighs in roads high and low. I thought a 1200 no. would be a great homage to the Papa GS (R1200 GS), so here is my finding (a review of sorts) after a month+ and more than 1200km on the ODO with the first-service details.
Looks and Presence
One thing is for sure, whether you like it or not. This one turns heads. Come young or old, small or tall. Everyone is attracted to its bulky muscular look. Specially the adventure tourer look with a beak that is not common on the streets. For an average rider like me its worth mentioning guys in their long Jaguars and BMWs pulling up next to me and asking about the bike.
Handling and Riding
The bike is tall for my frame, I just about manage to touch my both feet on ground. I've found an easier way to ride in traffic conditions, till arse to the right and I manage to keep me right foot flat on the ground by giving the bike a little tilt.
The bike is extremely comfortable, I've got this comments from shorter and tall riders. I was initially wondering if I should get a 2″ bar riser, but now I'm comfortable with it. The suspension too is supple to take in the bad roads. I did a ride recently to Velneshwar and I felt I didn't do justice to the bike with just 300km+ in one direction.
I generally tend to shift gear somewhere between 4k – 5k rpms which is probably the most comfortable zone of the bike. During bad roads trudging, its best to keep the bike in 2nd gear and RPMs 2k+.
On Mumbai-Pune highway, it's very easy to touch 100kmph mark on 5th gear itself, however I kept jumping up to ensure engine stays in easy mode atleast before the first service. The mid-range torque and power is good and can help you zoom past cars riding at 100kmph. I haven't really tested out 6000rpm+ yet
Bumper to bumper traffic
I agree to my mom's comments when she looked at the bike for the first time.
इतकी मोठी !! (this big !)
It's not very easy to ride in our close-combat streets of Mumbai, you have to be extremely cautious about the width. Plus with my limited reach of my legs to the ground it's even more precarious when there are 2 auto-rickshaws trying to narrow you down. This one probably takes 1.5x width of a normal commuter bike, keep that in mind and things would be fine.
For my first day on the bike in B2B traffic, I had worn a full-face MT helmet. It was probably my worst 30 mins of riding any bike. 2 things were new to me,
bike – new ergos, no flat-footing
full face helmet – reduced ability to see mirrors (more on that later)
The very next day I shifted to my old half-face Studds helmet and I 10 times more comfortable riding the GS even in the traffic.
Vibrations
I'd been riding a Honda Unicorn for all my biking life before I got the GS baby. The Unicorn has a peach of an engine, smoothest of the 150cc class. The bike too was most comfortable I've ridden till now. I've done over 72,000 kms on it with a 800km+ ride in a single day. I've still got to figure how well GS compares for such long distance touring.
GS is NO match for the smoothness of the Unicorn, period. The vibrations are OK till 4000 RPM, but post that the buzz starts coming through. It feels that you've kept a big mobile phone that is on a vibration under you. Vibrations are not like that of an Enfield, but it's no twin-cylinder motor buzz either.
Gearing and stalling
What has stalling got to do with gearing ?  perhaps lot, perhaps not. But either case, this GS has one specific problem – Low gear stalls (typically 1st gear start). I've read about this on number of online forums to confirm this is the case not specific to my riding or machine. Even the service guy acknowledged it.
During the start of the bike, low commuter ones, are lazy not to raise throttle enough and let go of the clutch slowly, so do car drivers. They only tend to raise the throttle when they want to accelerate and not
"crawl" as they say. However this engine-gearbox is not greatly tuned for the "low-end crawling". Everytime you release the clutch without going in the "accelerate" mode on the throttle, it'll stall. I've found, the engine RPM as it catches up with gearbox, starts to drop and once it goes below 1200-1500, the engine kinda "knocks" and stalls. If you re-engage the clutch again (sensing the stall), the engine which is getting more fuel from the fuel pump to avoid the stall suddenly finds it easy and the engine then revs past 2000 RPM. This for a new rider on GS, experienced or not will need time to settle. There were times I used to keep targets of max 2 stalls per journey, thankfully that is over. Yet if you find stopping on an uphill, I've got to be extra cautious.
I've felt some false shifts, and these are very specific ones.
Coming down from 3 to 2
Coming up from 1 to 2 – It feels the gear hasn't moved and u try to pull it, but its hard, only to release the clutch and see the Gear indicator is actually showing "2", which you thought hasn't even shifted from "1".
These are the typical speeds at which I change the gear
15-20kmph
35kmph
45- 50 kmph
60 kmph
80 kmph
Mirrors
A special mention for the mirrors, after 4500 RPMs, the mirrors buzz so much that the image is all fuzzy. I remember in Unicorn it used to happen when I was all out on 5th gear going 80kmph+. But here, even at 60kmph if ur in lower gear, say 3rd, you'll end up watching a fuzzy image.
Also, if I'm riding with a full face helmet, the helmet's jaw hinders the visibility of the mirrors, they're kind of low placed. Everytime you need to see in it, you have to actually duck your head down, to get to its view. A 5cm + height raise could improve hi-speed highway riding by a large margin.
Engine Heat
The only thing that I dreaded while upsizing my 150cc bike was the engine heat. I had ruled out a Duke just for the very reason. Thankfully, the GS is a very easy on heat output. I've seen the radiator fan kick in only in bumper to bumper traffic, that too while waiting for long periods of one-two in the traffic, and even after that the heat is not as bad as a Duke 390. I can easily ride this one in my shorts.
Form and function
Ergonomically I've already stated it's a great bike to ride. Yet there are certain things that could improve.
Mirrors – I've already mentioned about that in detail
Rear tire hugger – this GS doesn't come with it. However, ENSURE you add one atleast for the rains, there is no way on earth a rider and a pillion will stay clean in rains without the tire hugger. The service guy mentioned that Apache 310's tire hugger shall fit, however I haven't tried it. I have till the next rains to come in.
Front tire guard – This one is of adequate length, however another 3cm extender like found in Duke 250 will ensure even lesser dust on to the radiator.
Radiator – First, I was weary of the radiator, it's way high up, quite close to the seat height and it'll deflect a lot of hot air. The tall placed radiator gets lesser muck than a low slung one.
Handle height – I haven't saddled yet, however while trying to goof around on bad roads, I felt the hands are way below shoulders. Also this makes your entire body tilt forward a little, something like I do for my stoppies on my bicycle. Would've loved if the hands were slightly ahead while standing.
Plastic bash plate / sump guard – This one is of adequate form and thickness for normal touring needs and one of Leh routes, however if your plan is to continuously be on bad roads and offroads, it might not harm to get a firm steel one fixed.
Stands – The side stand is long enough, never I've felt the need to adjust my bike to adjust the stand. But how I would've loved to have a center stand, probably at a cost of top-rack.
Racks and stays – Top rack is B I G. Twice I've hurt my knee while unmounting. It could've been a tad smaller perhaps, but then it would've made the bike look another commuter one 😛
Seat – This is one soft, comfortable piece of design. The pillion too is always happy.
Lights – I haven't got a chance to ride in dark, so can't really comment on that front, but the jumpy / vibey headlights – I can 😀 At times it feels I'm giving a passing up-down beam to the oncomer due to the headlight's vibration, and they tend to up their lights as well. I would've loved a smaller KTM like (or papa GS) LED turn indicators. The rear ones are well protected by the rack, but front ones are vulnerable.
First Service
Coming to the juicy part of the cost of maintaining a GS. I reached BMW Service, Andheri on the dot of 1000km (almost a month in). The "garage" was full with 7-8 310s and few 1200 GSs.
My bike had tipped on the stand in wet soil on Velneshwar, and the handle had tilted slightly inwards on the left. I was apprehensive that the bill is gonna sky-rocket! 🙁 The guy estimated around ₹5200. I told him about the handle, he acknowledged that its slightly bent inwards.
I got a call from him saying the handle is bent slightly on left and we can replace it to fix it which would cost around ₹3k ( not sure how much these handles really cost), I said OK. But then he called me back after sometimes saying they don't have it in stock. So I said just adjust it in a wrench or something..
I went in the late afternoon to see he had adjusted the handle and was in better shape, only 'cause I knew there was a problem I could figure it out. He dished out the final bill which was ₹5252, as estimated.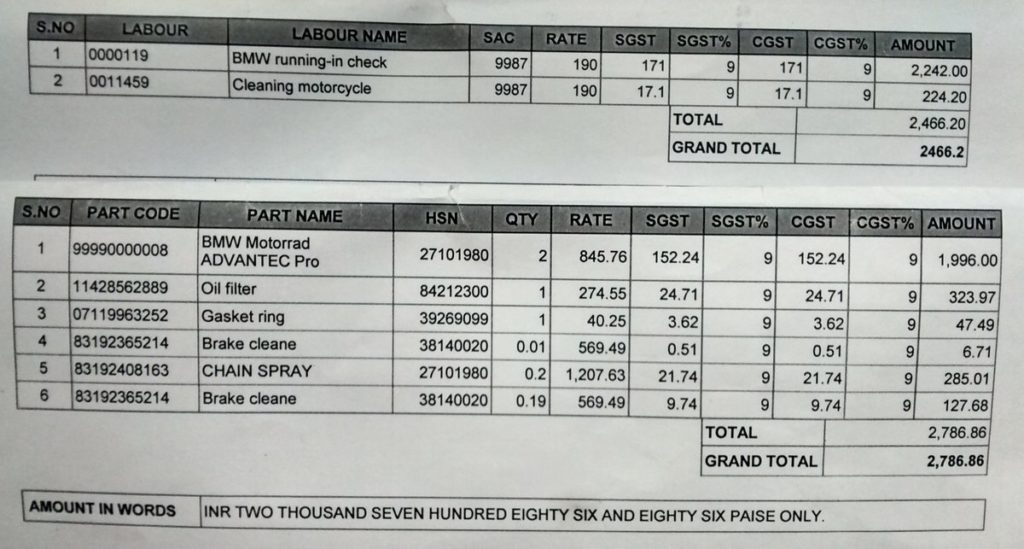 For a ₹300 chain cleaning wasn't VERY expensive the amount of effort we guys spent on cleaning and lubing our chains in Velneshwar. Also a ₹100 is the typical going rate for cleaning, this one is 300. Expensive ? yes.
I inquired about the handle bar, he said its fine now, he has re-adjusted the handle mounts. But, yet if required he can place an order for it if I wanted it. I decided to try it for sometime before taking that decision. I was expecting some extra labour, thankfully wasn't listed in the bill ( the base labour itself is pretty steep )
The guy confirmed next servicing is due in a year or a whopping 10,000 kms. However he did give me a word of advice
do check the engine oil around 5,000 kms.
All in all a fuss-free first service.