Feb 15, 2015 – Day 2 to Kumta, Karnataka
Early morning Bananas had given us enough solid food to get going, We left Palolem around 7.30am navigating through a familiar route of small up and downs into villages, roads bordered with trees, Coconut trees randomly but beautifully landscaping the entire scene in the crisp air . Goa – no wonder is beautiful. It reminded us a lot of our Mumbai – Goa Cycle trip. We halted to get some snaps near Talpona river. One thing me and Surya both observed – People strive to keep the waters and the adjoining area clean. It was the first time we were riding early morning on this trip. A few more days and it'd be a routine. A beautiful one too.
I was constantly check Google Maps (with GPS lock) to see where would we be crossing into Karnataka, Approximately it'd be a place called Majali. Sooner we started to see South Indian style temples, with big entrances and boards written in Kannad. Karnataka was closer. After few ups and downs on the road, we had straight, flat stretch, Surya dislikes such roads a lot with no character. Plain straight and boring. We saw some sort of toll naka / check post. I was sure it was the state border. When we reached the border check-post and tried some snaps, the KA police stopped us from taking snaps, later when we told we've come from cycle all the way and going down south towards Murudeshwar, he softened and allowed us. He screamed at me when Surya was taking my pic
अरे टोपी तो उतारो, चेहरा दिखना चाहिए !
Further a gorge invited us into its gully, This was the entry into Karwar city. Post the gorge a long bridge over Kali river followed and took us straight along Karwar beach. I had told Surya, the road is right next to the beach and we'll see a ship as a museum as well along the coast. We stopped at the Warship Museum took a few snaps and headed further along the road to have breakfast at an Udupi Restaurant around 10:00 am. I expected a lot from this one but the vada sambhar and onion uttappa reminded me of udupi hotels in Mumbai. Nothing special. Either Mumbai hotels were good or this one was just average.
There on we headed ahead towards Ankola, first – the immediate ghat ahead of Karwar, but it was beautiful climbing over the coastline. But then on the road again turning barren, perhaps the time around noon made it even more uninspiring to ride. We stopped for refreshments near Todur, where we took a few snaps of the shop and the lady owner as well. She was too shy pose solo along with her shop, so it had to be all of us in the 'selfie' mode. Outskirts of Ankola arrived around 2pm where a biker with a pillion rode along us asking us questions about our native place, our next halt and our final destination. This kindof interaction while riding would follow us all the way to Kanyakumari only thing that would change would be the language. We were already in a state where language was alien to us. From now on it would be just hand gestures, English nouns and Hindi verbs.
We spent about 1 hr for a lunch at a road side restaurant where the guy suggested we could also go and see a very famous "Arya Durga Temple". But the heavy Dal fry, rotis and jeera rice had other requirements of its own. We couldn't budge from the place, lazing till 3. When we finally got up and moved along towards Kumta. The next stop was near Shirur where we had climbed up a little and were running along the hills overlooking Gangavali river below. It was beautiful as there was hill on the other side as well and the river flowed right through the valley. After crossing the bridge over the river we saw a right for Gokarna, another tourist attraction. But it was 10km off from the highway, that would take 20km extra riding with around 2hrs extra. So we had to skip it.
The roads had improved a lot in Karnataka, not that they were bad in Goa, but since the hilly terrain had reduced. there was a greater chance of widening which was reflective in constant road widening projects along NH-17. Kumta came by around 5pm before that we crossed another river Aghnashini. The terrain had changed to hill again and traffic had worsened with trucks and buses moving at neck break speeds on the narrow NH-17. We found a lodge just opposite to the Bus stand, where the manager even allowed us to put our bikes in one of his shops which was getting built.
We got down on the road again in the evening after our routine of washing clothes and bath to explore the town. But it was really a small one. The only tourist attraction could've been a railway bridge running right over the centre of the town. We had tea near the bus stand and had an early dinner to get back on our beds.
Route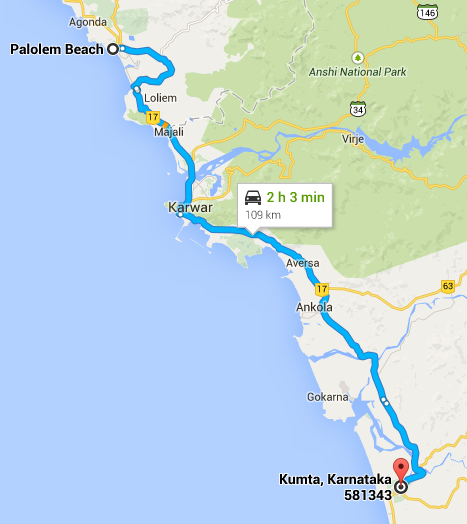 River Crossings
Talpona River, Canacona, Goa
Galjibaug River, Galjibaug, Goa
Kali River, Karwar, Karnataka
Chendiya Naval Base River, Todur, Karnataka
Poojageri River, Ankola, Karnataka
Gangavali River, Shirur, Karnataka
Aghnashini River, Kumta, Karnataka
Numbers
Rivers – 7
Ghats – 2
Length – 109 km
Time – 10 hrs